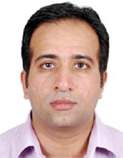 Meet Vinod Sachdev - A Digital Marketing Consultant by profession and the face and brain behind the projects delivered by Digital Centrics.
As a Digital Marketing Consultant by profession I provide Custom Website Design and Development, Custom Landing Page Design and Development, Google & Bing Ad Campaigns, Conversion Rate Optimization services to clients across USA, UK, Spain, Caribbean Islands, Dubai, India & other regions the globle.
I am also colabrated with other small & medium digital marketing companies in India as a liased between their internal team and clients after signing an NDA with them for providing - Project co-ordination, creating digital banners (for paid ads and affiliate marketing campaigns) & client co-ordination services for their client(s).
15+ years in Digital Industry Experience & Knowledge of Latest Web Technologies
375+ Paid Ads Search Campaigns Successfully Managed
100+ Paid Ads Shopping Campaigns Successfully Managed
250+ Paid Ads Display & ReMarketing Campaigns Successfully Managed
100+ Custom Websites & Landing Pages Designed & Developed
250+ Clients Served - Across USA, UK, Spain, Canada, Caribbean Islands, India & more..
90% Client Retention
Dedicated, Transparent & Ethical service
Customized Plans
Quick Response
Technical Hosting